Indian Wildlife Portal
Unfold The Adventure of India

Information on Project Tiger, Royal Bengal Tigers, Wildlife in India, Indian national parks, sancturies, Elephant safaris, angling, fishing, jungle lodges, wild trails, bird watching across India and the Himalayas

Wildlife in India
?
Wildlife Conservation
? Project Tiger
Project Tiger
Tiger sightings have become quite rare these days in India, reason being the Tiger killings because of its multitude of medicinal or magical properties that is why tiger trade is very profitable. Genuinely the tiger skin is not fashionable but the smuggling of Tiger fur coats and rugs are not difficult for the impoverished hunters. Even after the bans made by the government warning not to gather even wood from the former hunting grounds, poaching of tigers continue.
Still efforts are continuously made to preserve these magnificent predators from extinction. The Project tiger was launched in India in 1972 as conservation programme for saving the Indian Tiger Population. Some of the best examples of this programmes success can be seen in the national parks situated in the high Himalayan region, to the mangrove swamps of the Sundarbans and the thorny scrubs of Rajasthan. But more wildlife conservation laws and awareness among people is still required to make Indian sanctuaries a safe haven for tigers.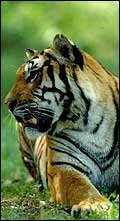 Related Links
:--