Bird Watching in India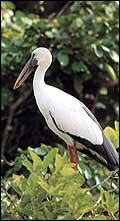 All right how many times do we watch birds during the day? Lot's of time! Right! Then what's the difference of watching birds in a sanctuary? Well! Just like exploring nature yourself. Bird watching is nothing new as far as wildlife activities in India are concerned and if you are a curious bird watcher who just craves to solve questions regarding birds and their habitats then just check out the bird sanctuaries of India.
Plush with some of the most exquisite avifauna Bharatpur or Keoladeo Ghana National Park is a delight for birding in India. Over 300 species of Indian birds are found over here and raised paths, camouflaged by babul trees and undergrowth make viewing easy. The Thattekad Bird Sanctuary is one of the most important bird sanctuaries in Kerela.
Famous Bird Watching Sites in India
Jaykwadi Bird Sanctuary, Maharashtra
This is dummy text. This is dummy text. This is dummy text. This is dummy text.This is dummy text. This is dummy text.This is dummy text. This is dummy text.
Bharatpur Sanctuary, Rajasthan
Welcome to the bird paradise of India, where beside the locals, you'll be able to witness the migrants such as the Siberian Cranes that cover half the globe to make Bharatpur sanctuary their nesting place for winters.
Kadalundi Bird Sanctuary
19-kms from Kozhikode, this bird sanctuary is a home to more than a hundred varieties of native birds and over 60 species of migratory birds that flock here in large numbers during the winter months. Spread over a cluster of islands, and covering scenic area of 3-kms surrounded by hillocks, this place is a must visit.
Kumarakom Bird Sanctuary
Situated on the banks of the Vembanand Lake is known for its varied avian population, including the local varieties of waterfowls, cuckoos and owls, as well as the migratory Siberian Cranes that can be viewed here during the months of December to February.
Kolleru Bird Sanctuary
Kolleru is the largest fresh Water Lake in the country and is described as "Peerless Fisherman's Paradise and Birds heaven" in the Imperial Gazetteer. The lake supports a rich biodiversity and high biomass of fish, plankton that forms the source of food for birds. Pelicans, the main attraction of this lake resort area, arrive during the nesting season to raise their young ones.
Manjira Bird Sanctuary
Manjira is a small sanctuary located along the banks of river Manjira. It also supports riverine habitat and is home for many water bird species, mugger crocodiles and fresh water turtles.
Nalsarovar Bird Sanctuary
The unusual reserve of Nalsarovar Lake and sanctuary is a wild hideout where a large number of water birds can be seen. It is also counted among one of the best of its kind bird sanctuary in India during the winter months, teeming with thousands of Cranes, Flamingoes, Pelicans, Ducks, Storks and other birds.
Nandurmadhmeshwar Bird Sanctuary
The site is considered a good wetland habitat aptly named as "Bharatpur of Maharashtra" harbouring thousands of beautiful local and migratory birds. There are more than 230 species of birds, out of which 80 are migratory species.
Nawab Ganj Bird Sanctuary
If you are interested in Bird watching, then check out this sanctuary with a huge marshland and shallow lake bordered with mixed dry forest. The avifauna attractions of this reserve comprise of The Pochard, Shoveller, Woodpecker, Parakeet, Coot, Purple Moorhen and Common Teal.
Karnala Bird Sanctuary
Karnala Bird Sanctuary is located at the bottom of the Karnala fort, which lies between Pen and Panvel. Rich with natural habitats the sanctuary abounds in bird life with various kinds of resident and migrant birds.
Nelapattu Bird Sanctuary
Nellapattu is located on the East Coast about 20-km north of the Pulicat Bird Sanctuary in the Nellore district. It is one of the largest pelican habitats in Southeast Asia with a total coverage area of 404-kms.
Porbandar Bird Sanctuary
Porbandar is quite a pretty small bird habitat of a variety of wildfowl, teals, ibis, curlews, and a sizeable number of migratory birds.
Ranganthittu Bird Sanctuary
If you are planning a holiday among the wilds, come to Ranganathittu and you will be treated with some of the most glorious sights of natural world.
Salim Ali Bird Sanctuary, Goa
On the western tip to the island of Chorao along the riverbanks of Mandovi, mangrove swamps cover this bird-watchers' paradise aptly named after India's best-known ornithologist and can be visited throughout the year.
Sultanpur National Park, Haryana
Sultanpur national park was a stretch of marshy land that has been remodeled and converted into a water body. The park is home to a large range of birds, both resident and migratory.
Thattekad Bird Sanctuary, Kerala
Deep inside the dense tropical evergreen and deciduous forests and grassland patches is located the Thatekkad Bird Sanctuary, home to India's bird population of about 500 winged species. This sanctuary is located in between the parts of river Periyar.