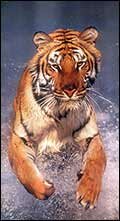 Tiger is not only the National Animal of India; it is the very essence of Indian wildlife. But poaching and too much killing have threatened its very existence of this magnificent animal, Tiger. With the success of Project Tiger some of the sanctuaries have seen a bright light and Corbett National Park is the biggest example of it, having the highest density of tiger in India.
Bandhavgarh National Park
Check out the place where firstly and formostly the white Tigers of Rewa were discovered Bandhavgarh. This park is some of the left out preserved wild pockets of Madhya Pradesh of what were once splendid forests that extended across the whole of Central India.
Corbett National Park
Corbett is India's first and finest national park spread along the banks of the Ramganga River, in the foothills of the Himalayas. A well-protected wild habitat, Corbett provides an unforgettable experience to a nature lover.
Dudhwa National Park
Also popular as a Tiger Reserve, this national park is located in the district of Lakhimpur, along the Indo-Nepal border. Another major attraction of this wild reserve is the Barasingha or the Swamp Deer, found in the southwest and southeast region of the park.
Kanha National Park
Ever though what it feels like to visit a tiger country, then visit the state of Madhya Pardesh, check out the wilds of Kanha and see for yourself why this place is called a wild hideout taken straight from the famous "Jungle Book".
Manas Tiger Reserve
For the energetic visitor, keen to experience of faraway Arunachal Pradesh, Bhalukpong is a place to visit. On the edge of the luxuriant forest of the Pakhui Game Sanctuary, along the Kameng river lies the village settlement of Bhalukpong, also known as the gateway to Bomdila and the Tawang Monastery.
Sundarbans National Park
Come to Sundarbans where adventure awaits you at every corner. Known as the largest estuarine delta in the world, this Tigerland vibrates with countless forms of colourful life.
The Palamu Tiger Reserve, Bihar
The tiger reserve of Palamu is located within the district of Palamau in the South Chhotanagpur plateau of Bihar. Sal forests and thickets of Bamboo and the circuitous Koel River set off the undulating terrain and the rivers tributaries meander through the park.