West India Wildlife Expedition
| | |
| --- | --- |
| Main Wildlife Regions : | Gujarat, Maharashtra & Goa |
| Famous Wildlife Reserves : | Gir Wildlife Sanctuary, Wild Ass Sanctuary |
| Wildlife Attractions : | Asiatic Lion, Indian Elephant, Leopards, Wild Ass |
| Best Time To Visit : | November To June |

Tour Packages for West India Wildlife Expedition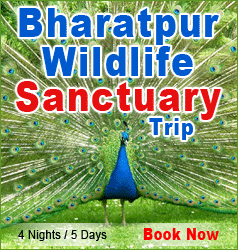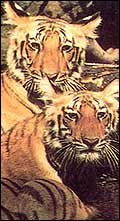 With an abundance of greener pastures the western part of India has got some real surprises for the nature lovers. Starting from the Gir National Park and Sanctuary in Gujarat, which is the only abode of
Asiatic Lions in India
. Not to forget the Rann of Kutch that will astonish you with its wilderness expedition that's probably quite unknown in rest of the world, such as the Wild Ass Sanctuary. There is Maharashtra, where the Western Ghats with its wilderness expedition invite you to have a vacation in its rich wildlife regions.
Famous Wildlife Expedition in West India
Gir National Park & Sanctuary, Gujarat
No need to give any introduction to this sole surviving natural habitat of the Asiatic Lions. Popularly known as Sasangir, this national park is blessed with some of the most diverse wild attractions and natural surroundings.
Sariska Wildlife Sanctuary
Probably the most visited park in India, Sariska was also a hunting reserve previously just like other national parks in India. The reserve was declared a wildlife sanctuary in 1958 and came under the "Project Tiger" as a tiger reserve in 1979.
Other Wildlife Expedition in West India
Anerdam Wildlife Sanctuary, Maharashtra
The sanctuary is situated on southwestern range of Satpura range in Shirpur Tehsil of Dhule District. The sanctuary was once very rich in wildlife, now it is trying to regain its previous status. Some of the common animals found in this area are Barking Deer's, Chinkaras, Hares, Porcupines and Jungle Cats.

Bor Wildlife Sanctuary, Maharashtra
Located in Hingni in Wardha of Vidarbha region, Maharashtra, Bor Wildlife sanctuary area includes 3,237 hectares of Reserve Forest, 2,213 hectares of Protected Forest, and 660 hectares of Unclassed Forest.

Nandurmadhmeshwar Bird Sanctuary, Maharashtra
The site is considered a good wetland habitat aptly named as "Bharatpur of Maharashtra" harbouring thousands of beautiful local and migratory birds. There are more than 230 species of birds, out of which 80 are migratory species.

Navegaon National Park, Maharashtra
The Navegaon National Park located in Navegoan, Gondia is one of the most popular forest. Among its main attractions are a Deer Park, an aviary and three beautifully landscaped gardens.

Pench National Park, Maharashtra
The Pench National Park on the border of Madhya Pradesh and Maharashtra has been known through the ages for its rich flora and fauna. As the 25th Tiger Reserve of the country, Pench takes pride in its tigers and other wildlife.

Wild Ass Sanctuary, Gujarat
Gujarat is an exciting place for wildlife enthusiasts, mainly because it resides some of the unique wild attractions within its numerous sanctuaries. Wild Ass sanctuary is another of Gujarat's wild surprises famous for its large wild Ass herds.

Tour Packages for West India Wildlife Expedition