About Gir Wildlife Sanctaury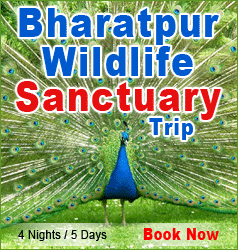 In the southwest of the peninsular state of Gujarat, lies the 116 square-mile Gir sanctuary created to protect the last wild population of
Lion
outside the African regions. Since 1913 when the Lion population over here fell drastically to just 20 animals, the numbers have increased to around 300. The
Asiatic lion
is slightly smaller than its African cousin is and its mane is also smaller.
Flora in Gir National Park
The Gir National Park is a mixed deciduous forest with teak, flame of the forest, some Acacia and Banyan trees. A distinct belt of vegetation is found along the main rivers and streams. Species like the Jambu, Karanj, Umro, Vad, Kalam, Charal, Sirus and Amli are found here. These trees are mostly broad leaved and evergreen, giving the area a cool shade and the moisture content.
Major Wildlife Attractions in Gir
Wildlife Sanctuary
In India the
Lion
population is spread across the states of Rajasthan, Gujarat, Haryana, Punjab, Uttar Pradesh and Madhya Pradesh. But Gir is not just about
Lions
, the second most commonly found predator in the Gir is Leopard. Infact, Gir national park is also home to one of the largest Leopard populations in any park in India, and especially in the hotter season they can sometimes be seen at night close to the lodges.
Other animal residents of the Gir national park are Sambar Deer, Chital Spotted Deer, Nilgai Antelope, Chowsingha Four-Horned Antelope, Chinkara Gazelle, Wild Boar, Langur Monkey, Jackal, and Hyena and numerous birds like Paradise Flycatcher, Bonneli's Eagle, Crested Serpent Eagle, Woodpeckers Flamingo etc.
Other Attractions in Gir Wildlife Sanctuary
Jeep Safari :
The best way to observe the big cats is, of course, in their natural surroundings, at dawn and dusk, when they are on the prowl. Wildlife viewing in the Girs is best done, by driving via jeep around the forest.
Best Time to Visit Gir Forest
Wildlife enthusiasts can visit Gir park throughout the year, but the best period to visit the Gir Sanctuary is between the months of November and June.