Wild Trails in India
| | |
| --- | --- |
| Main Wildlife Regions : | Himalayas, Northeastern States & The Western Ghats |
| Famous Wildlife Reserves : | Periyar Wildlife Sanctuary, Gir Wildlife Sanctuary, Corbett National Park, Kaziranga National Park |
| Wild Trails Attractions : | Indian Rhino,Indian Elephant, Bengal Tiger, Nilgiri Tahr |
| Best Time To Visit : | October To June |

Tour Packages for Wild Trails in India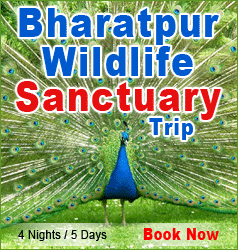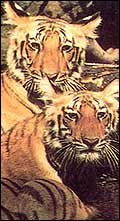 Does nature lure you, often? Does the forest life always catch your fascination with its varied wilderness? Then check out the numerous Indian wildlife sanctuaries and wild trails whose areas are extend over several hundred thousands of square kilometers, where wild life can be observed in their natural surroundings. Each wildlife sanctuary supports several varieties of species, being well known for one particular one.
In some cases, there are rare and endangered ones too. Thus, there's the Gir Forest in Gujarat as the only surviving home of the
Asiatic lions
; Manas and Kaziranga in Assam have a significant population of one horned
Indian Rhinos
and Periyar in Kerala is best known for Wild
Elephant
viewing. Other only safe havens for endangered animals include Keibul Lamjao National Park in Manipur for Thamin Deer, Dachigam for Hangul or Kashmir Stag, and Velvadhar in Gujarat for Blackbuck.
Famous Wild Trails in India
Bandhavgarh National Park
Check out the place where firstly and formostly the white Tigers of Rewa were discovered Bandhavgarh. This park is some of the left out preserved wild pockets of Madhya Pradesh of what were once splendid forests that extended across the whole of Central India.
Ranthambore National Park
A nearby attraction of Sawai Madhopur, in the state of Rajasthan, Ranthambore National Park is an outstanding example of Project Tiger's efforts at conservation in the India.
Kaziranga National Park
The land of Rhino is counted among the two major wild pockets, the only surviving habitats of this prehistoric survivor in India.
Kanha National Park
Ever though what it feels like to visit a tiger country, then visit the state of Madhya Pardesh, check out the wilds of Kanha and see for yourself why this place is called a wild hideout taken straight from the famous "Jungle Book".
Bharatpur Sanctuary, Rajasthan
Welcome to the bird paradise of India, where beside the locals, you'll be able to witness the migrants such as the Siberian Cranes that cover half the globe to make Bharatpur sanctuary their nesting place for winters.
Corbett National Park, U.P.
Corbett is India's first and finest national park spread along the banks of the Ramganga River, in the foothills of the Himalayas. A well-protected wild habitat, Corbett provides an unforgettable experience to a nature lover.
Sariska Wildlife Sanctuary
Probably the most visited park in India, Sariska was also a hunting reserve previously just like other national parks in India. The reserve was declared a wildlife sanctuary in 1958 and came under the "Project Tiger" as a tiger reserve in 1979.
Gir National Park & Sanctuary, Gujarat
No need to give any introduction to this sole surviving natural habitat of the Asiatic Lions. Popularly known as Sasangir, this national park is blessed with some of the most diverse wild attractions and natural surroundings.
Periyar Wildlife Sanctuary, Kerala
Best known for its wildlife, is a must-see for all the visitors to Kerala. The Periyar lake lies at the heart of the sanctuary, which is a veritable paradise for all wildlife lovers.
Tour Packages for Wild Trails in India