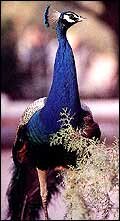 Whether you are in a desert or on the high steep slopes or within the dense forests, the best way to explore off beaten tracks of the natural world is through a safari. India is blessed with some of the most varied and adventurous wild sites. There can be no better way of experiencing life in the desert than through a journey into its hinterland on camel back. Similar experience visitors can enjoy among the grasslands, on the back of an Elephant.
A more recent, and exciting, variation of the camel safari is the horse safari.

Horse safaris are usually conducted in the hilly terrains and forested countryside and are ideal for taking to the trail. Next comes Jeep Safari, the best option one can have to explore the insides of a forested land. Wildlife Safari means exploration of the lesser known wilds, but Lion Safari!! Yes, this safari is basically done sighting a Lion, while you are in a jeep on an elephant back. And the major attraction about this kind of a safari is ofcourse, watching the Lions in their natural habitat.