Sariska Wildlife Sanctuary
| | |
| --- | --- |
| Location : | 37-kms From Alwar, Rajasthan |
| Nearest Access : | Alwar (37-kms) |
| Main Wildlife Found : | Tigers, Leopards, Wild Dogs |
| Coverage Area : | 765.80-sq-kms. |
About Sariska Wildlife Sanctuary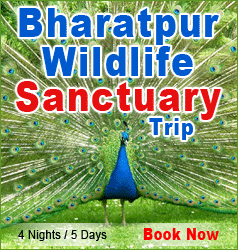 Sharp cliffs of hills and narrow valleys of the Aravallis dominate the landscape of Sariska, whose forests are dry and deciduous. Within the Sariska wildlife sanctuary there are the ruins of medieval temples of Garh-Rajor, belonging to the 10th and 11th centuries.
A 17th century castle on a sharp hilltop at Kankwari, provides a panoramic view of flying Egyptian vultures and eagles. ?The area was declared a sanctuary in 1955 and became a National Park in 1979.
Major Wildlife Attractions
The Sariska park is home to numerous carnivores including Leopard, Wild Dog, Jungle Cat, Hyena, Jackal, and
Tiger
. These feed on an abundance of prey species such as Sambar, Chitel, Nilgai, Chausingha, Wild Boar and Langur. Sariska is also well known for its large population of Rhesus Monkeys, which are found in large numbers around Talvriksh.
The avian world is also well represented with a rich and varied birdlife. These include Peafowl, Grey Partridge, Bush Quail, Sand Grouse, Tree Pie, Golden backed Wood Pecker, Crested Serpent Eagle and the Great Indian Horned Owl.

Other Attractions in Sariska Wildlife Sanctuary
The Kankwari Fort : Among the historic landmarks located within the Sariska national park, includes the Kankwari For, where, Emperor Aurangzeb once imprisoned his brother, Dara Shikoh. The Ancient Shiva Temples : Within the area of the Sariska tiger sanctuary, Neelkanth temples, that dates back to the 6th-13th century AD, now in ruins, afford a wonderful sight to the visitors.

The Palace : Sariska was known as the royal reserve of the rulers of Alwar. This palace built by the Maharajas of Alwar, has now been converted into a hotel.

Best Time to Visit Sariska Tiger Reserve
Visitors can visit Sariska wildlife sanctuary throughout the tear, still the beast period is during the months of October to June.


How to Get there
Air : Jaipur is the nearest airport from Sariska at a distance 107-kms.

Rail : The nearest railway station is at Alwar (37-kms).

Road : Sariska wildlife sanctuary is situated off the Delhi-Alwar-Jaipur Road. Jaipur is located at a distance of 107-kms and Delhi at 200-kms from Sariska. Sariska is well connected with Alwar, which is further directly connected with bus services from Delhi and Jaipur.

General Info / Tips
Jeep Safari :
The best way to visit the Sariska Wildlife Sanctuary is by jeep and these can be arranged at the Forest Reception Office on Jaipur Road. Booking a `hide', overlooking one of the water holes, can provide an excellent opportunity for wildlife viewing and wildlife photography within the Sariska Sanctuary.
Tour Packages of Sariska Wildlife Sanctaury
Lodges & Resorts in Sariska Wildlife Sanctaury