Bharatpur Bird Sanctuary (Keoladeo Ghana National Park)
| | |
| --- | --- |
| Location : | Bharatpur, Rajasthan |
| Nearest Access : | Bharatpur |
| Main Wildlife Found : | Sambar, Chital, Nilgai, Boar, Migratory Birds |
| Coverage Area : | 29-sq-kms |
About Bharatpur Bird Sanctuary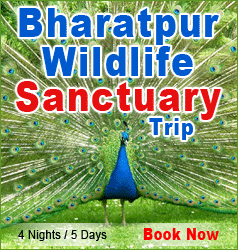 Best Bird Watching Site in India - Bharatpur
Travel Bharatpur National Park
One of the finest bird parks in the world, Bharatpur Bird Sanctuary (Keoladeo Ghana National Park) is a reserve that offers protection to faunal species as well. Nesting indigenous water- birds as well as migratory water birds and waterside birds, this sanctuary is also inhabited by Sambar, Chital, Nilgai and Boar.
Flora in Bharatpur
More than 300 species of birds are found in this small
wildlife park
of 29-sq-kms of which 11-sq-kms are marshes and the rest scrubland and grassland. Keoladeo, the name derives from an ancient Hindu temple, devoted to Lord Shiva, which stands at the centre of the park. 'Ghana' means dense, referring to the thick forest, which used to cover the area.
Bharatpur Bird Sanctuary Best Time to Visit:
August to Novemeber
A Man Made Natural World
While many of India's parks have been developed from the hunting preserves of princely India, Keoladeo, popularly known as Bharatpur Wildlife Sanctuary, is perhaps the only case where the habitat has been created by a maharaja. In earlier times, Bharatpur town used to be flooded regularly every monsoon. In 1760, an earthen dam (Ajan Dam) was constructed, to save the town, from this annual vagary of nature. The depression created by extraction of soil for the dam was cleared and this became the Bharatpur Lake.
Major Wildlife Attractions
The major attractions of tourists visiting the park are the numerous migratory birds, who come from as far away as Siberia and Central Asia and spend their winters in Bharatpur, before returning to their breeding grounds. Migratory birds at Bharatpur bird sanctuary include, several species of Cranes, Pelicans, Geese, Ducks, Eagles, Hawks, Shanks, Stints, Wagtails, Warblers, Wheatears, Flycatchers, Buntings, Larks and Pipits, etc.
Other Travel Attractions
Bharatpur Govenment Museum :
One of the major attention grabber after the Bharatpur sanctuary is Government Museum of Bharatpur, which provides a glimpse of the past royal splendour of Bharatpur.
Bharatpur Palace :
Not far from the museum is the Bharatpur Palace, an marvellous structural blend of Mughal and Rajput architecture.
Lohagarh Fort :
The invincible Lohagarh Fort, which remained unconquered despite several attacks by the British regime.
Deeg Palace :
Situated just 32-kms away from Bharatpur is the Deeg Palace. A strong and massive fortress, Deeg Palace was the summer resort of the rulers of Bharatpur and houses numerous beautiful palaces and gardens.
Best Time to Visit Bharatpur Bird Sanctuary
Bharatpur Wildlife Sanctuary is open throughout the year, still the ideal visiting months are from August-November for resident breeding birds and October- February for migrant birds.
Trips within Bharatpur Wildlife Sanctuary
There are well-defined forest trails, which can easily be covered on foot or on a cycle or you can also hire a rickshaw that are available on hire. Rickshaw pullers have been trained by the park management in
bird watching
and are quite knowledgeable. Boats are also available on hire. A early morning boat trip or a late evening one is quite a rewarding experience to check out the hidden surprises of Bharatpur.
How to Get there
Air :
The nearest airport is situated at Agra, which is 56-kms from Bharatpur.
Rail :
Regular rail services connect Bharatpur with all the major cities of India such as Delhi, Mumbai, Jaipur and Agra. The Bharatpur railway station is 6-kms from the park
Road :
An excellent network of roadway services connects Bharatpur to all the major cities of the Rajasthan and its neighbouring states like Delhi, Uttar Pradesh, Haryana. Bharatpur is well connected by road from Agra (56-kms, 5 hours), Delhi (176-kms, 5 hours) and Jaipur (176-kms, 6 hours), all of which have airport facilities too.
General Info / Tips
Note :
Do not forget to carry a binoculars for watching the birds.
Bird watching
depend greatly on season, timing, and patience, so its better to visit the sanctuary during the visiting period.
Tour Packages of Bharatpur Bird Sanctuary
Lodges & Resorts in Bharatpur Bird Sanctuary