Sundarbans National Park
| | |
| --- | --- |
| Location : | Piyali, West Bengal |
| Nearest Access : | Gosaba (50-kms) |
| Main Wildlife Found : | Bengal Tiger, Ridley Sea Turtle |
| Coverage Area : | 1330.10-sq-kms |
About Sundarbans National Park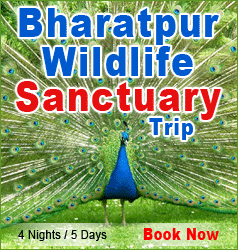 The vast swampy delta of the two great Indian rivers, Brahamaputra and the Ganges extends over areas comprising of mangrove forests, swamps and forest island all interwoven in a network of small rivers and streams. The Sundarbans National Park, home of the
Royal Bengal Tiger
, covering an area of approximately 1330.10-sq-kms and the largest mangrove forest in the world, form the core of this area. The Sundarban region has got its name from Sundari trees, once found in abundance here.
The Ganges and the Brahmaputra form this alluvial archipelago of 54 islands watered by the Bay of Bengal. The islands Goasaba, Sandeshkali and Basanti form the northern boundary of the Sundarbans; on the south is the sea; to the west side of the Sunderbans park is the Matla and Bidya Rivers and to the east is the international boundary of Bangladesh.
Flora in Sundarbans National Park
Fascinating life forms await you in this largest estuarine delta in the world, Sunderbans. In April and May the flaming red leaves of the Genwa, edge the emerald islands. The crab like red flowers of the Kankara and the yellow blooms of Khalsi add to the dazzling display. As you penetrate into the forests of Sundarbans, this fairyland unfolds its mysterious beauty.
Major Wildlife Attractions of Sundarbans
The Sundarbans forest is home to more than 400 tigers. The
Bengal Tigers
have adapted themselves very well to the saline and aqua environs and are extremely good swimmers. As you enter the adventurous wild land of the Sundarbans you'll be thrilled to see the Chital Dear and Rhesus Monkey. The aqua fauna of Sundarbans include variety of fishes, red Fiddler Crabs and Hermit Crabs.
Other Attractions In Sundarbans
The Sajnakhali Sanctuary :
The Sajnakhali sanctuary, famous for its rich avian population, is regarded as a part of the Sunderbans National Park. The kingdom of birds at Sajnekhati enchants your eyes. The most sought after sights by a bird watcher are seven colourful species of Kingfisher, white bellied Sea Eagle, Plovers, Lap-Wings, Curfews, Whimbrels, Sandpipers and occasional Pelican.
Netidhopani :
At Netidhopani, the ruins of a 400 year old temple and legends lend mystery to the atmosphere.
Bhagabatpur :
Bhagabatpur is famous for having a hatchery of the largest estuarine crocodiles in the world.
Kanak :
Kanak is the nesting place of the Olive Ridley Turtles.
Haliday Island :
Haliday island is famous as last retrest of Barking Dear in India.
Piyali :
Piyali is the gatway to Sundarbans, 72-kms from Kolkatta by road and close to Sajnekhali, Sudhanyakhali, Netidhopani through waterways. A small river Piyali flows through the green paddy fields and mingles with river Matla. Picturesque Piyali delta makes an ideal romantic holiday destination. A beautiful tourist complex with accommodation and recreation facilities is also situated over here.
Kaikhali :
On your way to Sundarbans you cannot afford to miss Kaikhali Island, where nature is so alive and so colourful. An ideal picnic spot.
Best Time to Visit Sunderbans National Park
The ideal time to visit the Sundarbans national park is during the months of September and May. Winter make the time to see the mighty
Royal Bengal Tiger
sun-bathing on the river banks.

How to Get there
Air : The nearest airport is Kolkatta, at 112-kms.

Rail : Canning is nearest railhead, at a distance of 48-kms.

Road : Road transportation is available from Kolkatta for Namkhana (105-kms), Sonakhali (100-kms), Raidighi (76-kms), Canning (64-kms), and Najat (92-kms), which are all near the Sunderbans and have access to the riverine waterways leading to it.

Waterways : Sundarbans are accessible only by riverrine waterways. Motor launch facilitiy are available from Namkhana - Bhagabatpur Crocodile Project- Sagar Island -Jambudwip; from Sajnekhali - Sudhanyakhali-Buridabri- Netidhopan-Holiday Island; from Sonakhali - Gosaba; from Raidighi - Kalas.

General Info / Tips
Permits : For Foreigners for Tiger Projects & Sajnekhali,
Contact: Secretary, West Bengal Forest Department, Writer's Blidge, Kolkatta - 700001, on request.

Permit For Other Areas of the Sundarbans : Field Director, Sundarbans Tiger Reserve, PO Canning, District 24 Parganas, West Bengal

Tour Packages of Sundarbans National Park
Lodges & Resorts in Sundarbans National Park