Royal Bengal Tigers
| | |
| --- | --- |
| Major Regions : | Madhya Pradesh, Uttaranchal, West Bengal, Rajasthan, Kerala. |
| Famous Tiger Reserves : | Kanha National Park, Bandhavgarh National Park, Corbett National Park, Sundarbans National Park. |
| Other Wildlife Attractions : | Leopards, Antelopes, Deers, Sambar, Gaurs. |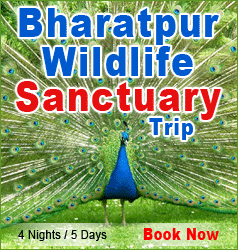 About White Tigers
Within the dark, deep woods of South Bengal, criss crossed by the estuarine canals, is situated the marshy mangrove jungle of Sundarbans - the den of the Royal White Bengal Tigers. His majesty has even left tracks on the Himalayan snows at 10,000 ft. As you begin your exciting journey in Sundarbans, chances are you may come across a pugmark of a real Royal Bengal Tiger on a mud flat.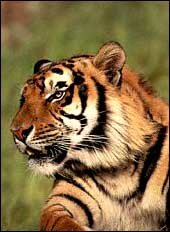 The majestic Royal Bengal Tiger
The Royal Bengal Tigers were once ruled the special ambience of Sunderbans, and this tiger country was popular as the Big Game Hunters Mecca. But after facing a drastic fall in the Bengal Tiger population, Project Tiger was implemented in 1973 and later Sundarban Tiger Reserve was demarcated over 2,585-sq-kms. The core area of 1330-sq-kms has been declared a National Park and has been chosen as a World Heritage Site.

Visit Royal Bengal Tiger Reserves :
Bandipur & Nagarhole National Parks, Karnataka
Two of the most attractive national parks of Karnataka are Nagarhole and Bandipur. Even if separate entities, they are a part of a large neighboring wildlife reserve that also includes Madumalai Sanctuary of Tamil Nadu and Wynad Reserve of Kerala.

Namdhapha National Park, Arunachal
Tucked away in the northern most state of Arunachal, is the Namdhapa National Park, famous for the extremely elusive snow and the clouded Leopard. The park is also a Tiger Reserve under Project Tiger.
The Palamu Tiger Reserve, Bihar
The tiger reserve of Palamu is located within the district of Palamau in the South Chhotanagpur plateau of Bihar. Sal forests and thickets of Bamboo and the circuitous Koel River set off the undulating terrain and the rivers tributaries meander through the park.
Simplipal National Park, Orissa
Simplipal is counted among the earliest Project tiger reserves of India and is located in the northern-forested belt of Orissa. Beside the faunal attractions, the attractive terrain also includes numerous waterfalls.
Kalakad Mundanthurai Tiger Reserve, Tamil Nadu
Kalakad-Mundanthurai-Tiger Reserve was started during the year 1988, area of 800 sq. kms in the southern most western ghat ranges of Tirunelveli Kottabomman district. The great diversity of edaphic and climatic features Of this conservation unit has led to rich biodiversity of fauna and flora. 32 species of flora and 17 of faunal species are already recorded as highly endangered.
Nagarjunasagar Tiger Reserve, Andhra Pradesh
Nagarjuna Sagar - Srisailam Sanctuary is one of the biggest success stories of Project Tiger in India. Adjoining the reserve is the large reservoir of the Nagarjunasagar Dam on the River Krishna.
Bengal Tigers Tour Packages