About Royal Bardia National Park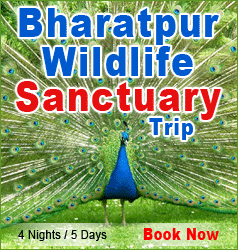 Royal Bardia National Park is the largest park in the lowland Terai covering an area of 968 sq. km. The park situated in Nepalís Western Terai was established to protect representative ecosystems and conserve tiger and its prey species. Initially, a small area was gazetted as the Royal Karnali Wildlife Reserve in 1976. When this area was protected, approximately 1500 people of the Babai valley were resettled outside the park allowing the vegetation and wildlife to flourish. In 1982, it was renamed as Royal Bardia Wildlife Reserve, and in 1984 it was extended to its current size. The reserve was given the status of a National Park in 1988. Greater One-horned Rhinoceros were translocated from Royal Chitwan National Park in 1986, 1991, and 1999.
Fauna in Bardia National Park
What makes a visit to Nepal's Royal Bardia National Park particularly special is not just its large and intact habitat area and its isolated location, but also the presence here of one of the last known herds of wild Elephants in South Asia. The herd, numbering less than two dozen, roams these remote jungles in western Nepal.
Bardia also boasts the greatest number of deer species in Nepal. The six deer species found in the park are: Chital or spotted Deer with its ubiquitous white spots on a brown coat; Hog Deer; similar to but smaller than Chital; Sambhar, the largest Deer on Indian subcontinent with a shaggy coat and thick antlers; Swamp Deer; Barasingha; and reddish-colored Barking Deer, the park's smallest Deer.
Other large mammals are: Gaur, the largest wild oxen in world; wild Boar, an omnivorous black-coated creature with large tusks; the agile sloth Bear, a shaggy black bear with a distinctive white "V" on its chest; Blue Bull or Nilgai, the largest Antelope on the Indian subcontinent; and Himalayan Tahr. Serow and Goral, two goat-Antelope members, are also found. Small mammals include: Langur Monkey, Rhesus Macaque, Jackal, three species of cats (jungle, leopard, and fishing); yellow-throated Marten; Mongoose; and Indian Otter.
Birds are the park's most conspicuous fauna with over 300 resident and migratory species. Avid bird-watchers will want to visit the park in November or from February to April when migrants arrive, depart or pass through.