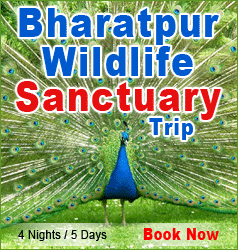 ? Tiger Tops Corbett Lodge, Corbett
At Dhikala, Ramnagar is situated Tiger Tops Corbett Lodge, Corbetts most ostentatious resort, overlooking the Kosi and the forested hills beyond.
Accommodation Facilities
? Large comfortable rooms
? A library
? A well stocked bar
? A swimming pool
Leisure & Sports Activites
? Nature trails with the resorts own naturalists.
? Jungle rides
? Fishing
? Trekking
? Wildlife film shows
? Dhikala Forest Lodge, Corbett
Corbetts main camp, Dhikala, beautifully situated, overlooking the Ramganga reservoir and the forested hills beyond, is 40-kms northwest of Ramnagar. You can only stray beyond the confines of the camp under armed guard, on an Elephant back or in a car or jeep.
Accommodation Facilities
Accommodation ranges from the 24 bunk beds in the Log Huts and other assorted spartan huts, to more comfortable bungalows and cabins.
Food & Other Services
? Food is available in the lodge canteen either per day, with tempting western food, and affordable Janta meals.
? There is also a Dhaba, frequented by the park staff who wit and tell of their adventures and latest sightings.
? Theres also a library and reading room, where film shows on wildlife are run.
Leisure & Sports Activites
? Its normally possible to see plenty of animals and birds from the lookout tower beside a waterhole 1-km from the Dhilkala camp. Elephant safari and jeep rides are also organised for wildlife viewing.
? Sarapduli Forest Rest House, Corbett
On the way to Dhikala from the Dhangarhi gate, the road passes through magnificent forest ? if you have your own transport, stop at the High Bank Vantage Point, and Sarapduli Forest Rest House on the road are bookable through Project Tiger, but you have to make your own food arrangements. The bungalows are surrounded by deep forest; as movement on foot is restricted, youll only see wild animals that stray close to or into the compound.